Bridge the gap between home and school
We are a leading developer of school apps in Australia and internationally, providing your parents, staff and students with instant access to real-time information and correspondence through a custom school app.
Custom
Modules
We start by getting an understanding of your school's communication goals in order to provide you with the most relevant modules for your eduAPP.
Simple Content Management
You'll have the ability to quickly and easily manage your eduAPP's content and communications through a simple content management system.
Seamless Integrations
With the ability to integrate with leading school systems and programs, we can ensure that your eduAPP is connected with your existing communications.
42,736,109
PUSH NOTIFICATIONS SUCCESSFULLY SENT & STILL COUNTING
Modules that matter to your school.
We've built a range of school app modules to help schools reach their communication and engagement goals. Include only the modules that your school needs.
Start with our range of standard eduAPP modules for effective communication with your school community.
Add to your suite of standard modules and enhance your school's eduAPP with premium modules for specialised communication.
We are committed to helping schools reach their communication goals, so ask us about custom module development.
We are constantly improving and refining our products, so any future changes to your app modules will be available in regular updates.
Standard Modules
Premium Modules
Don't just take our word for it.
We've developed mobile app solutions for a range of schools across Australia, New Zealand and Asia.
View examples
Update

your app in a matter of seconds.

Manage the content on your eduAPP using a simple system on your desktop or mobile. You'll be able to view reports, make updates or send push notifications quickly and simply through your content management system.
Analytics
Understand your community's engagement with your eduAPP. View downloads by device and receive direct feedback from your community.
Content Updates
Through your content management system, you can add Notices, upload Newsletters, update your Calendar and more. Updates are instant and easy to manage.
Push Notifications
Increase the impact of your update with an instant push notification. Target your message to ensure it reaches the right members of your school community.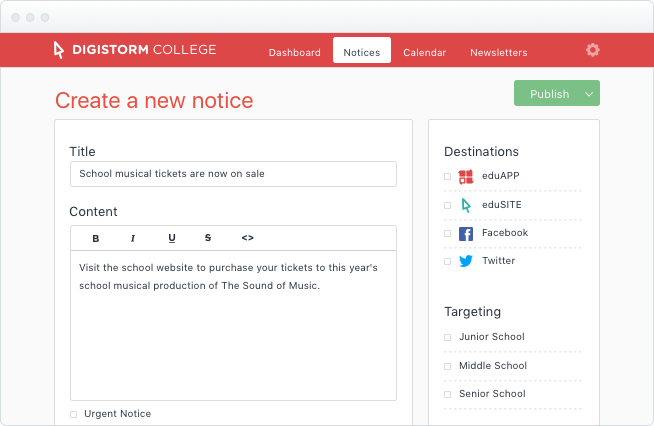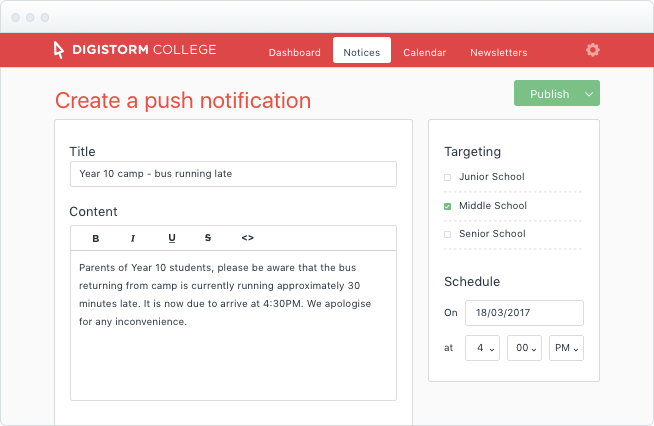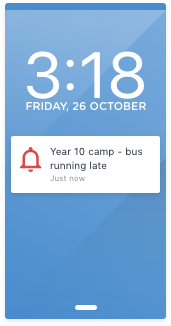 Clever

integrations.

We believe that clever integrations make it easier for our schools to provide their communities with a strong communication solution. We offer integrations with leading school systems and programs so that you receive the best possible software solution.
System
Integrated

eduAPPs

Create a mobile extension of your existing platforms
with our system specific integrations.
Our kick-start for school apps in Australia
Back in 2012, we used our industry knowledge and technical skill to develop the first school app in Australia, allowing us to gain a better understanding of the software needs of K-12 schools. Over the years, our school apps in Australia have continued to be developed and improved, now serving K-12 schools internationally.

Learn more about our story.
eduAPP is for everyone.
Our school app is designed with your entire school community in mind. While the modules available create a comprehensive parent communication app, eduAPP also offers benefits for both schools and students.
Parents
eduAPP offers a parent communication app solution that keeps parents informed of the happenings in their child's schooling life.
Schools
eduAPP allows schools to send parent communications via their school app simply and easily, using a user-friendly system.
Students
Students are saved the responsibility of bringing home communications for their parents due to their school app, allowing them to focus on their education.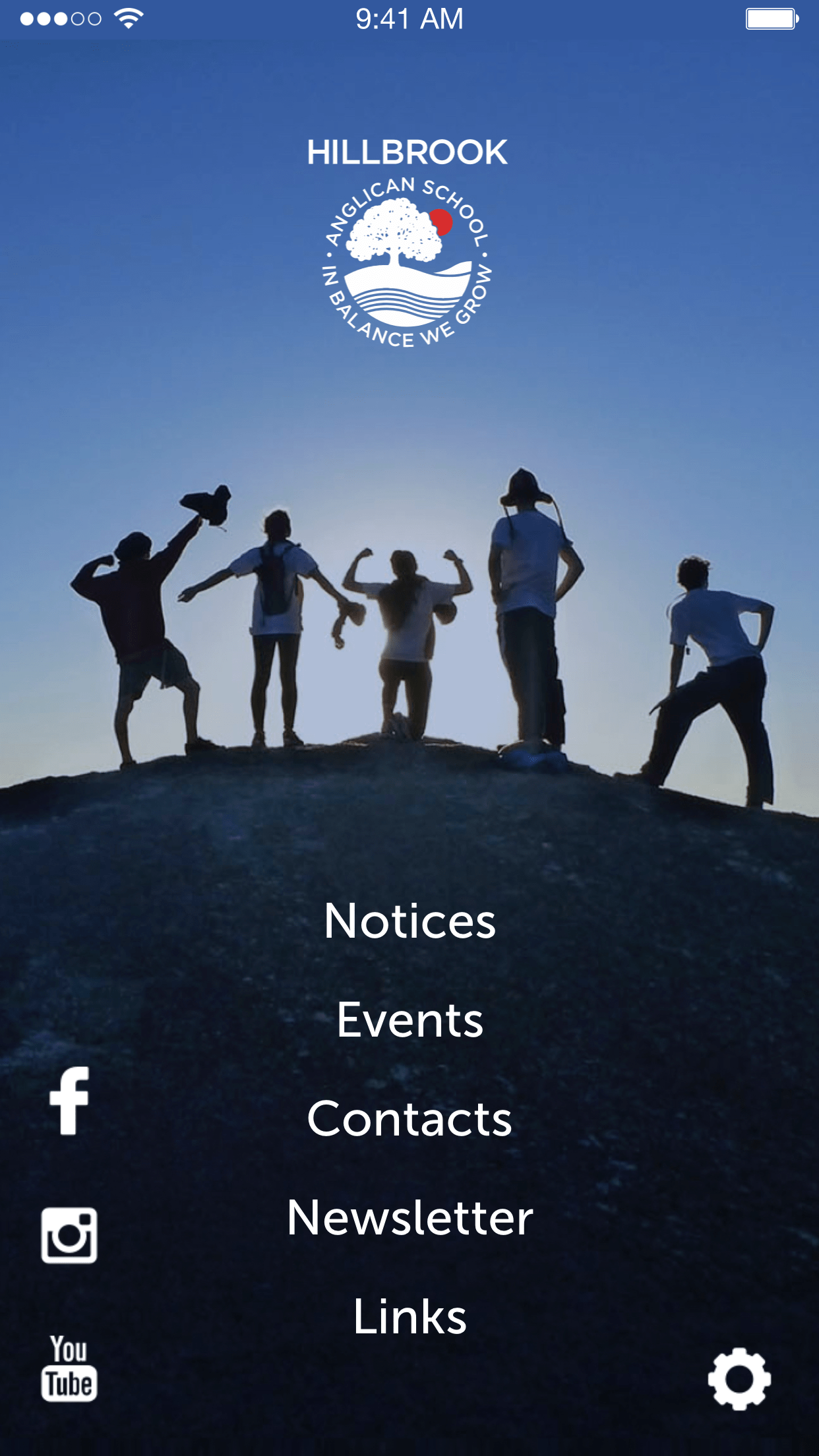 The Hillbrook app allows us to be better connected with our school community.
Families can subscribe to receive notifications that are timely and relevant to them. We pull our newsletter and event information from our website, so there is a consistent source of information across our communication platforms. The Digistorm team have been friendly and accommodating from development, through to implementation and technical support. Most importantly, we have received a positive response! We continue to see user numbers rise as more families realise the benefits of having useful information at their fingertips.
Melanie Cooke, Consultant
Hillbrook Anglican School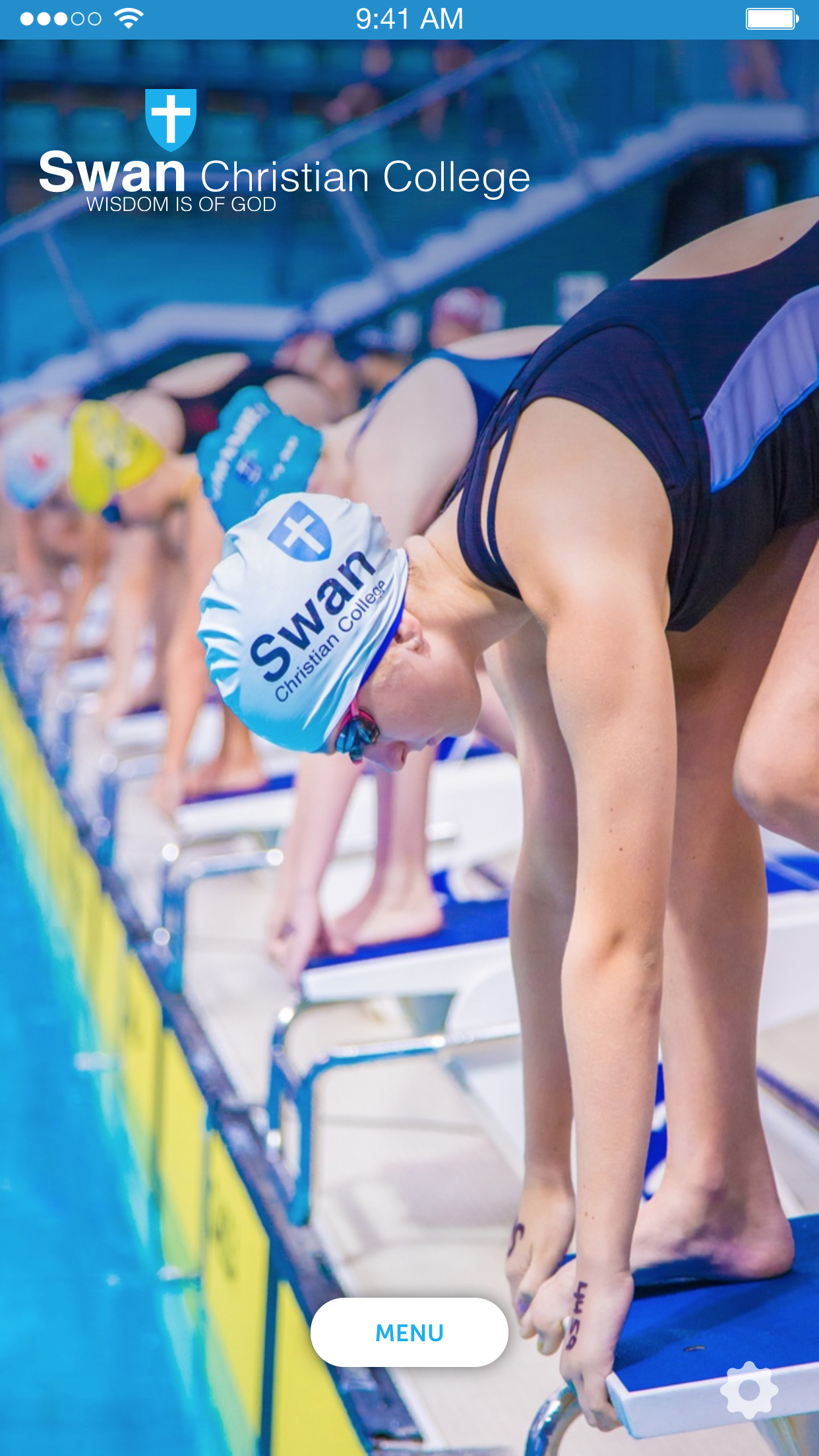 Most people working in education would agree that keeping things simple and reducing work is the key to adopting platforms.
Digistorm's willingness to integrate features of our student management system, TASS, significantly reduces rework as information flows easily from our public calendars to our app and websites, saving our administration teams significant rework compared to multiple online calendar systems. We've greatly appreciated the team at Digistorm's willingness to work closely with us to deliver the outcomes we were looking for across many projects.
Daniel Pillar, Marketing and Development Manager
SCEA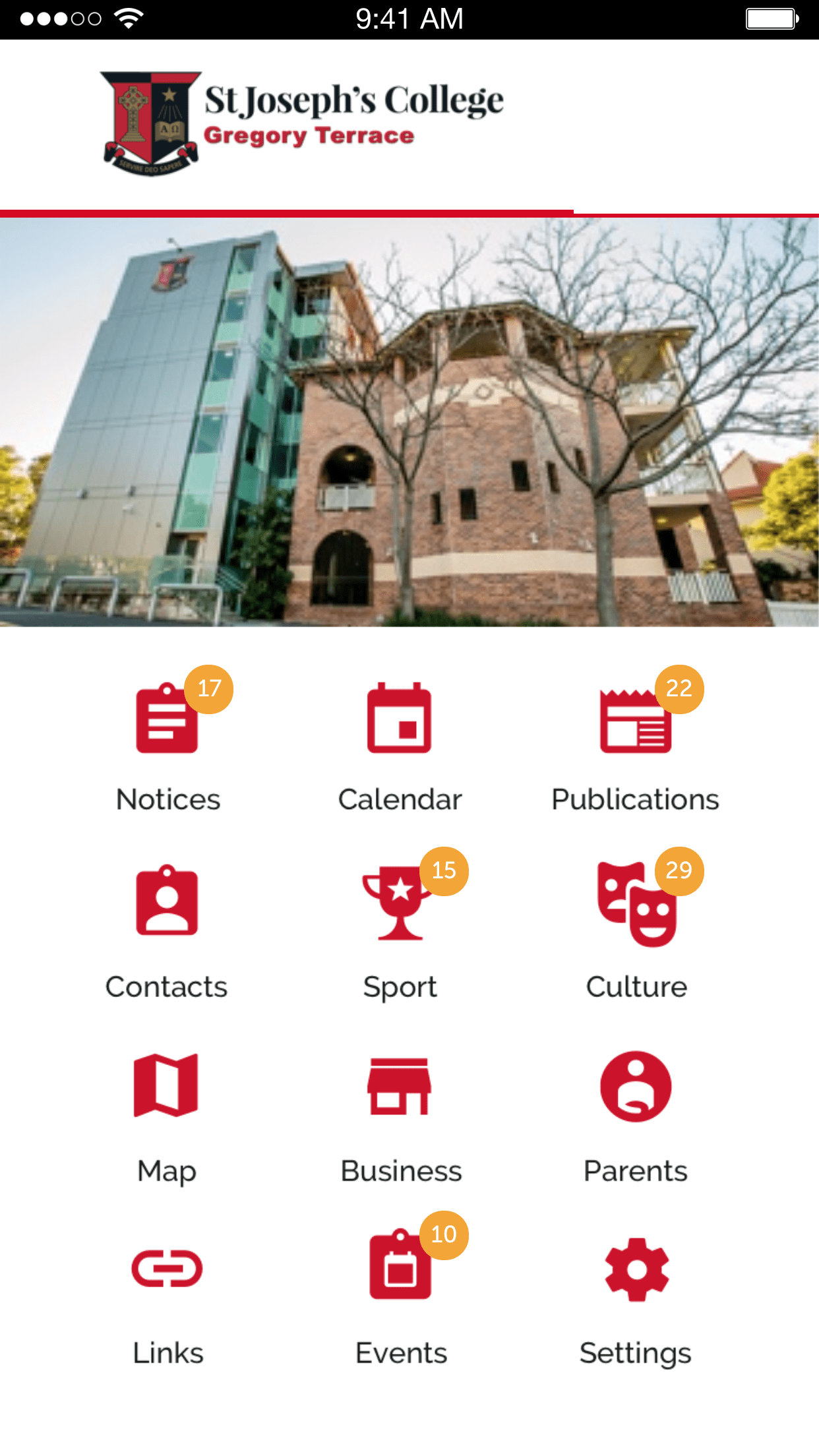 Our app allows us to be connected with our school community 100% of the time.
The push notification feature is really handy because it allows us to get urgent information to the right parents quickly and easily.
Zoe Morgan, Dean of Communication
St Joseph's College, Gregory Terrace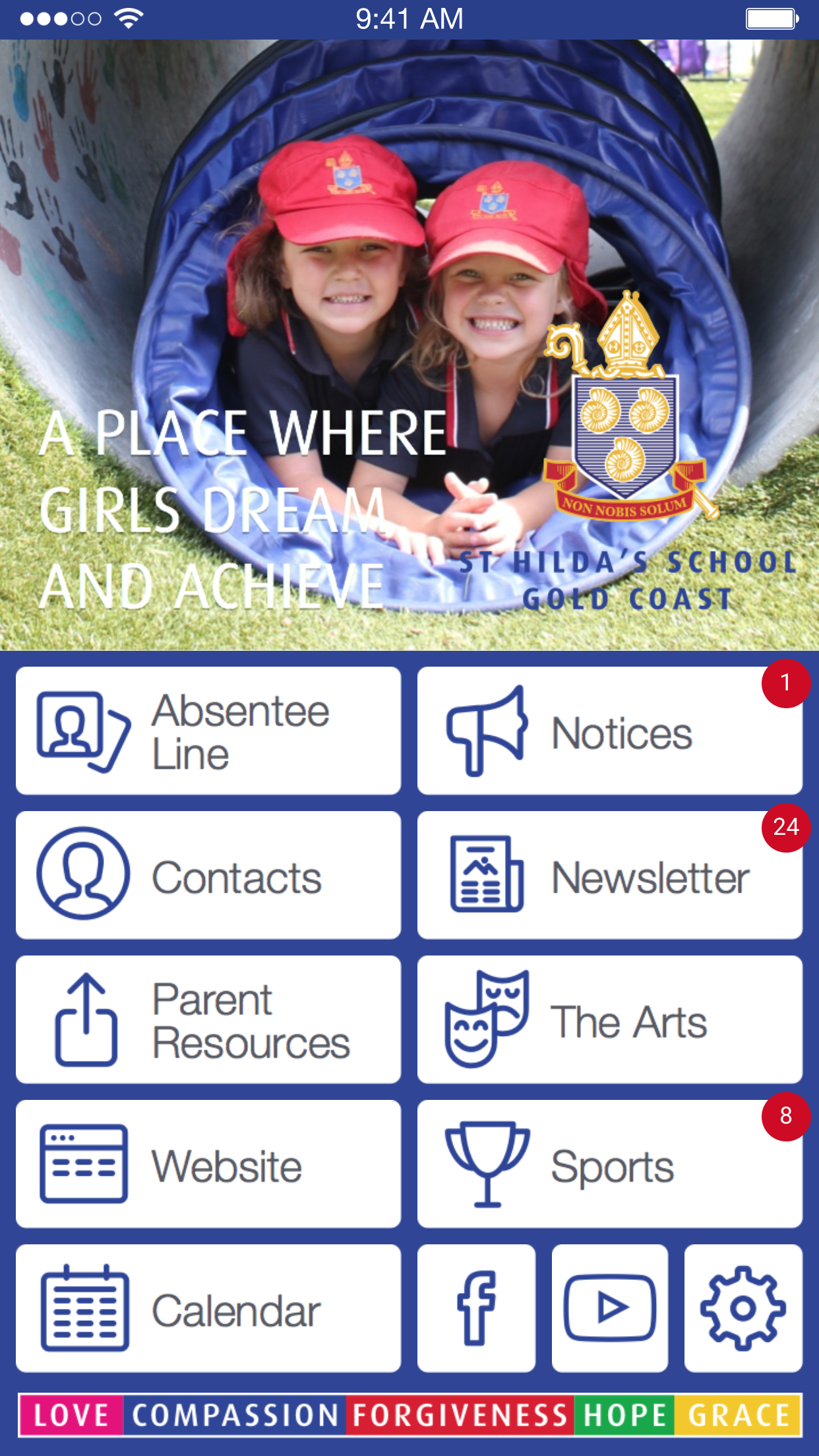 Our school community is able to receive up to date information immediately.
The app has enabled our Sports Departments in Junior, Middle and Senior Schools to communicate easily and instantly with students and their families about upcoming activities and major sporting events, as well as cancellation of events and late departures/arrivals from events. The app is very easy to use from an administrative perspective and we love how we can generate notices from our mobile devices while on the road travelling with sports teams.
Jill, Head of Sport
St Hilda's School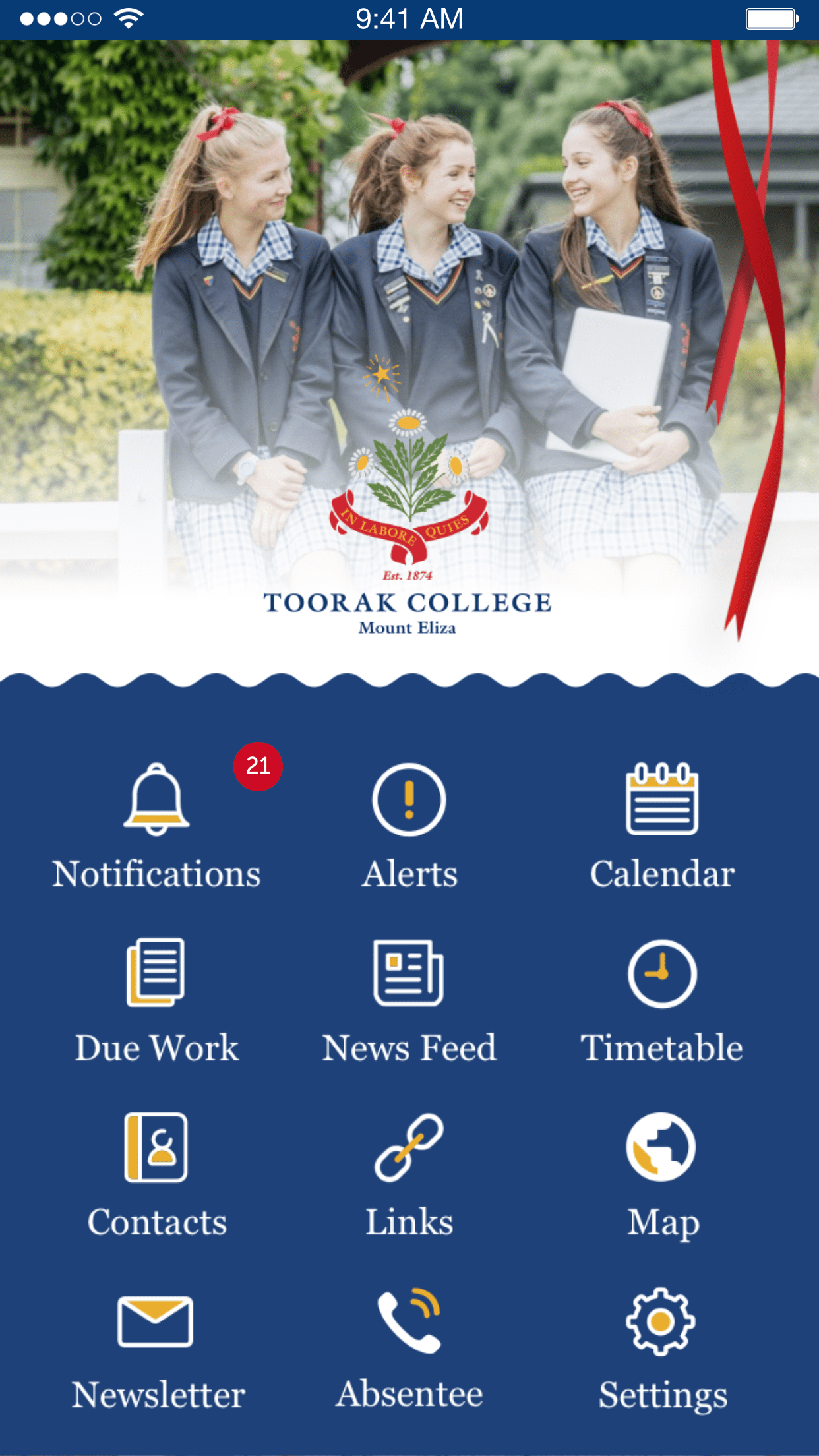 It is easy to manage and strongly reflects the design of our new website.
Our school app has given our parents and students the opportunity to become far more connected with the School, providing a go-to point and allowing them to easily find the information they need. The development of the App was efficient, with the Digistorm team using their expertise to foresee any issues and offer their best solutions.
Megan Gerlieb, Communications Manager
Toorak College